About Us
A Grand Elephant are a well-respected film production company whose main speciality is full production support services. As you know, Thailand – one of the world's most beautiful and varied locations – is often used by artists and film-makers alike as backdrops to their movie projects, music videos and marketing pursuits. But when people unfamiliar with the country step into Thailand – without the right advice – a whole host of mistakes can be made which may result in financial or artistic errors from which it is difficult to recover.
A Grand Elephant caters for everything that foreign filmmakers and companies require in Thailand. Our experienced team of producers and crew will use our well-established contacts in the country for you. We don't discriminate in vis-à-vis the size of the production but rather, we treat every film company we meet with the same respect and determination to please.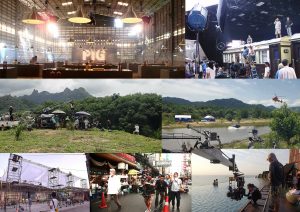 A Grand Elephant has worked with international filmmakers and companies from all over the world and we have a highly-regarded reputation. Established in the summer of 2005, we now have over a decade's experience in helping foreign filmmakers from all over the globe to produce quality work which has been seen by millions of people at the cinema and in the comfort of their own homes.
Our ethos is simple but effective: to work closely with producers and directors and also with the rest of the crew, giving them straight forward advice about how to achieve the best result in a Thai environment. Our passion is to make and participate in high-quality productions whether it is an epic feature movie or a thoughtful commercial for a day-to-day product. All will be treated with the same respect!
In short, we offer:
straightforward advise
integrity in our work
having supported the international film community successfully for over 12 years as a company, we offer vast experience and expertise in the field
we have a good working relationship with the Film Office in Thailand and our local film industry, not to mention our international clients
a professional, high quality service to those wishing to film in Thailand
We hope to hear from you soon – whatever your artistic endeavour.